Kim Crawford (left) and husband Peter Crawford (right) and their daughters Katie and Lauren have been traveling from Pictou County to Halifax to participate in FORBOW. Now they will be able to access the program from a new satellite location opening in Pictou County.
The Aberdeen Health Foundation is the leading charity for health care in Pictou County. Over the past 36 years, the Foundation has funded nearly $30 million in capital and program improvements in the Aberdeen Hospital and local community, with a focus on hospital-based technology advancements and innovations in patient care.
The mission has expanded over the years to also include population and mental health initiatives as we work toward a vision of Pictou County where every person has the opportunity to attain their best health.
Internationally recognized FORBOW program coming to Pictou County
A mental illness prevention and early intervention program is coming to Pictou County, with funding from the Aberdeen Health Foundation.
Families Overcoming Risks and Building Opportunities for Wellbeing (FORBOW) is already operating in Halifax as a program within Dalhousie University. "We started the FORBOW study almost ten years ago now and have developed it gradually over time," says Dr. Rudolf Uher, the program's Primary Investigator. "We have very strong indications that for young people who are likely to develop major forms of mental illness, like depression, bipolar disorder and psychosis, we can see it coming years in advance and have time to intervene. We've been working with families across Nova Scotia to develop ways to predict and prevent the onset of mental illness." The results have been profound, with early intervention showing prevention of the onset of mental illness may be possible in over half of the cases. Dr. Uher was recognized in 2021 as one of the world's most cited researchers, demonstrating the significant impact his work has in the field of mental health.
The Pictou County location will focus on youth aged 9-24 and offer in-person and remote sessions. Families can become involved in the study via clinician and self-referrals, and the program will also partner with the Chignecto-Central Regional Centre for Education to offer outreach to local schools.
Amplifying generosity to advance health care in Pictou County
Our mission is to amplify generosity – to take what you give and make it greater. Donors trust the Foundation to make the most of gifts made in support of local health initiatives. Through another year of sound investing and financial stewardship, we've turned your generosity into $2.5 million in enhancements to direct patient care and programs that prevent illness and promote health equity and access for all. Learn more: aberdeenhealthfoundation.ca/about
Will Power
Leaving a gift in your Will to the causes you care about can make a lasting contribution while you still support your loved ones in the future.
This is why the Aberdeen Health Foundation is a partner in Will Power, a national movement encouraging Canadians to think differently about giving, and leave a gift to charity in their Wills.
Estate gifts to the Foundation have helped build endowment funds, purchase equipment, create and sustain health programming, and added valuable enhancements to the health care system in Pictou County. Learn how you can keep your love for health care going: www.bit.ly/AHFWillPower
Evolving support for health care needs
In the early days of our Foundation, donors envisioned a fund that would live in perpetuity to purchase state-of-the-art equipment for the Aberdeen Hospital. One of those early donors and visionaries was founding member Jim Gogan. Jim's investment leadership has allowed our Foundation to donate millions of dollars, year over year. At this year's AGM, we will rename the Medical Endowment Fund in Jim's honour, ensuring all future beneficiaries will know of his lasting legacy and the role he played in their care.
In the years since our founding, health care needs and treatment options have changed. While our Foundation continues to invest in medical equipment and hospital enhancements, we also look for opportunities to have an impact on population health, including mental health and community wellness projects in Pictou County. Several of these investments are highlighted in this report, and we are thrilled to play a part in helping people access the resources they need close to home.
We look forward to working with our partners in many exciting projects ahead, amplifying your generosity to advance health care in Pictou County.
Susan MacConnell, Chair
Susan MacConnell, Chair
Robyn Eaton, Past Chair
Lisa MacDonald, Vice Chair
Heidi Jamieson-Mills, Treasurer
Heather MacDonald, Secretary
Kimberly Byrne
Dr. Patricia Craig
Janice Fraser
Ashley Harrison
Clinton Keay
Kim Livingston
Harry Munro
Dr. Chakshu Sharma
Heidi Sinclair
Frank Sobey
Marsha Sobey
Mark Wiseman
The beating heart of leadership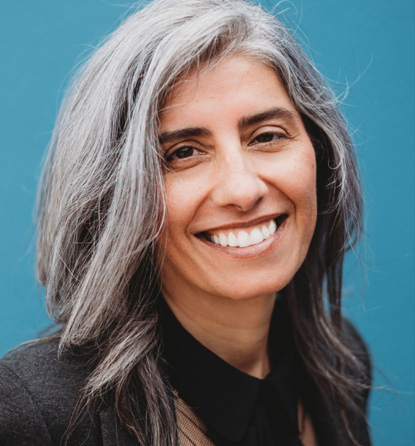 Leader is not a label I have felt comfortable attaching myself to. Recently I had a learning opportunity that has challenged some of the assumptions I had been holding. Being a leader is not about your title, or where you sit on an organizational pyramid. Leadership is your ability to influence, motivate, and excite. This is a definition I can get behind, and I am seeing it everywhere now. I see it in the faces pictured in this report – in Nova Scotia Health staff who are identifying the tools and training they need to grow and better serve their patients, and those who give back beyond the hours they clock in every day. In community partners who have made mental wellness a priority they are addressing, and a family willing to share their personal story and example with others. Then there's little Dani, who has such a generous spirit that every year she turns her birthday party into a fundraiser for the babies at the hospital. Leadership is not about looking to the front of the room; it can be found in the hearts of everyone who is stepping up to make their community a healthier place.
Michelle Ferris, Executive Director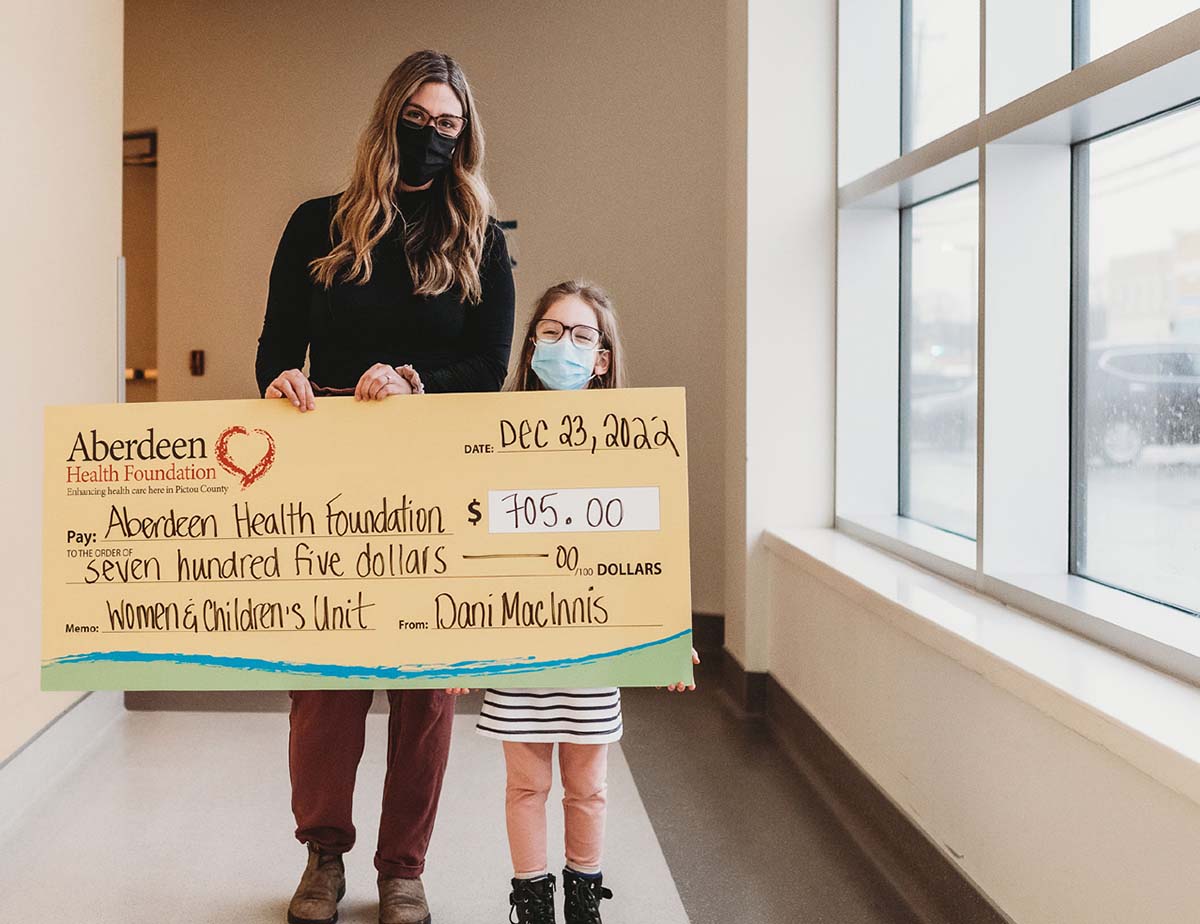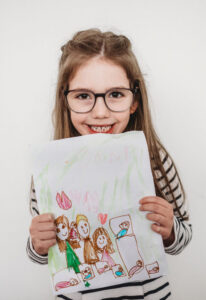 Born almost a month early, Dani MacInnis's first weeks were spent in the Aberdeen Hospital's Women and Children's Unit – a time which inspired her parents to find a way to give back. "She was so well-cared for and as first-time parents, Jake and I felt very supported," says Dani's mother, Meghan. "We decided with her birthday being so close to Christmas, it would be nice to give back rather than receive." When Dani turned two, Meghan and Jake began a yearly tradition of asking for donations rather than birthday gifts. December marked Dani's sixth birthday and most successful fundraiser to date, raising $705 from friends, family and classmates. Dani's birthday fundraiser has contributed over $1,700 to the Women and Children's Unit to date.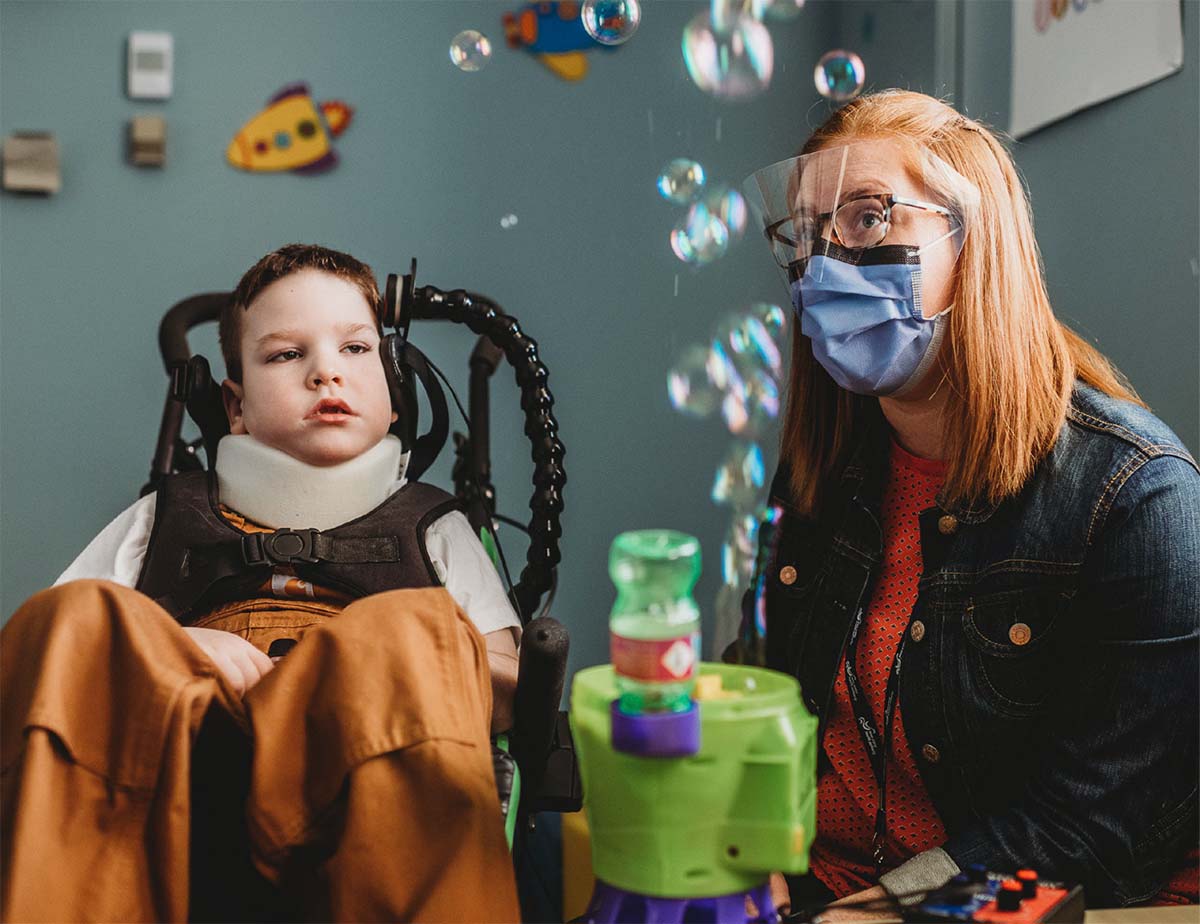 Occupational Therapy equipment provided by the Aberdeen Health Foundation and Neil Squire Society last year is unlocking the door to a world of new experiences and autonomy for pediatric patients at the Aberdeen Hospital. For children with lifelong mobility and communications challenges, like Christopher Fraser, learning how to use these devices known as switches begins with the opportunity to interact with toys and games with the long-term goal of controlling a communication device.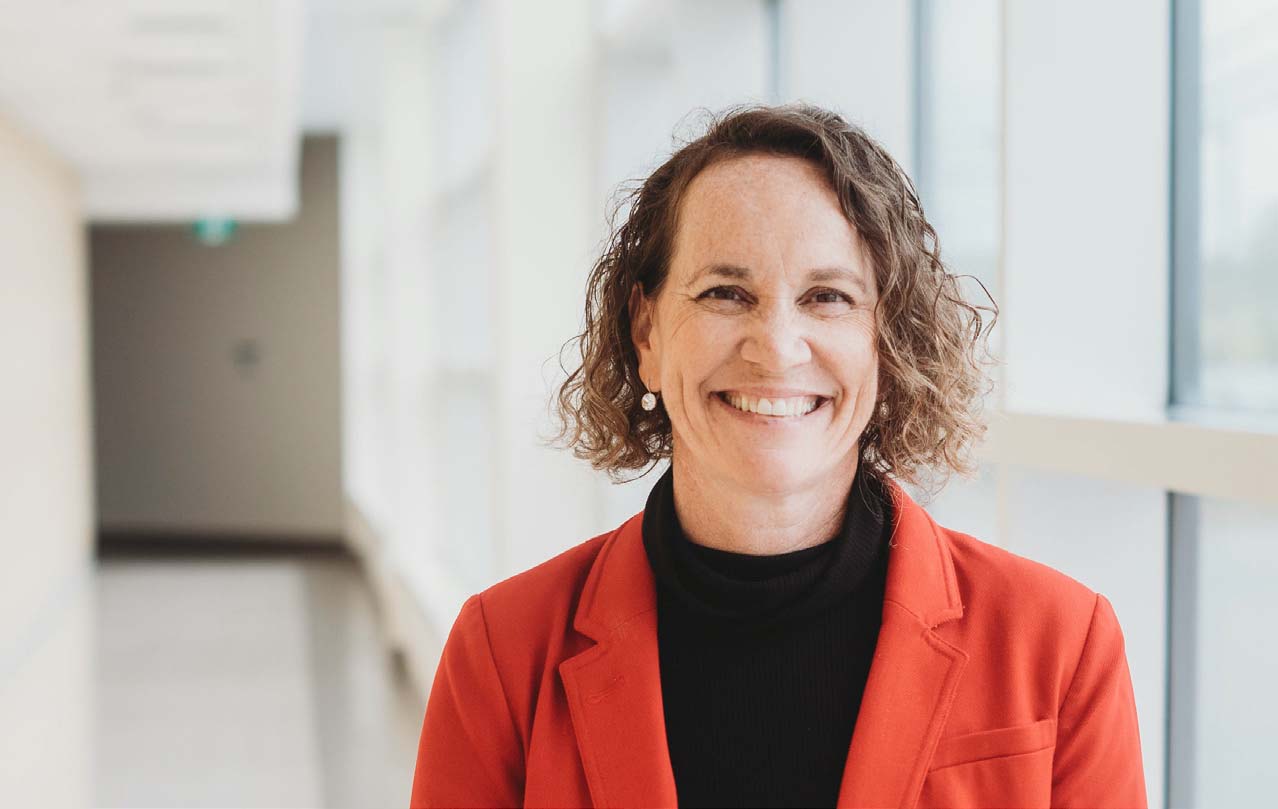 We all know the vital role health care workers play in our community, but some are truly going above and beyond the call of duty. Nova Scotia Health employee Nancy MacConnell-Maxner dedicates much of her time to enhancing Pictou County through volunteer work and community involvement. She also participates in the Payroll Deduction Program, donating a portion of each pay period to the Pictou County United Way and the Aberdeen Health Foundation.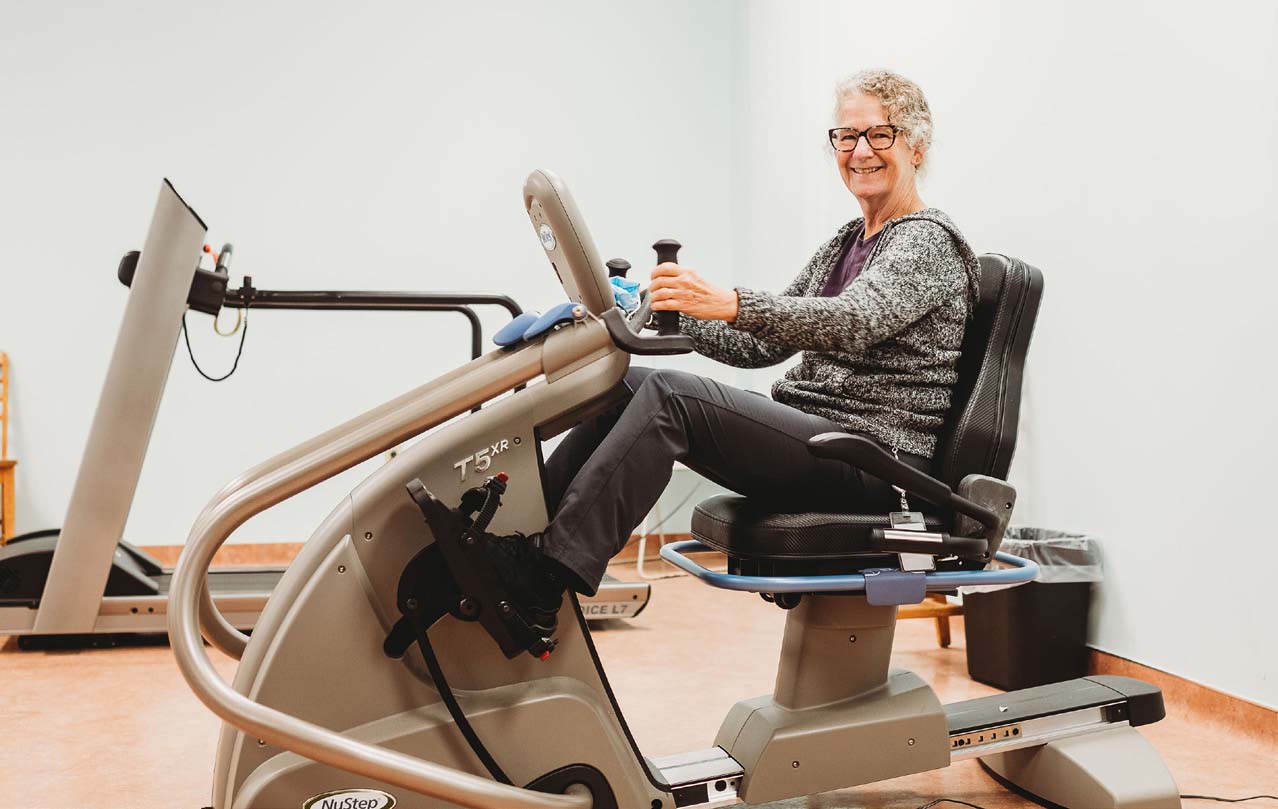 A popular new piece of equipment provided by the Aberdeen Health Foundation is offering patients a low-impact exercise opportunity at Aberdeen Hospital. "Essentially, the Nustep is a type of recumbent stepper which uses both arms and legs, so it offers a full body workout, where an exercise bike would only work the legs," says Beth Gillis, physiotherapist at Aberdeen Hospital. The machine is making a big difference to stroke patients, who often have a loss of movement on one side. Using specialized attachments and a mirror to work both arms and legs, it has become a powerful treatment for the brain in stroke recovery.
Health care is always evolving, and standards of care and practice recommendations are constantly updating to conform with the latest evidence-based information. In 2022, the Foundation provided funding to support the continuing education of health care staff across several departments.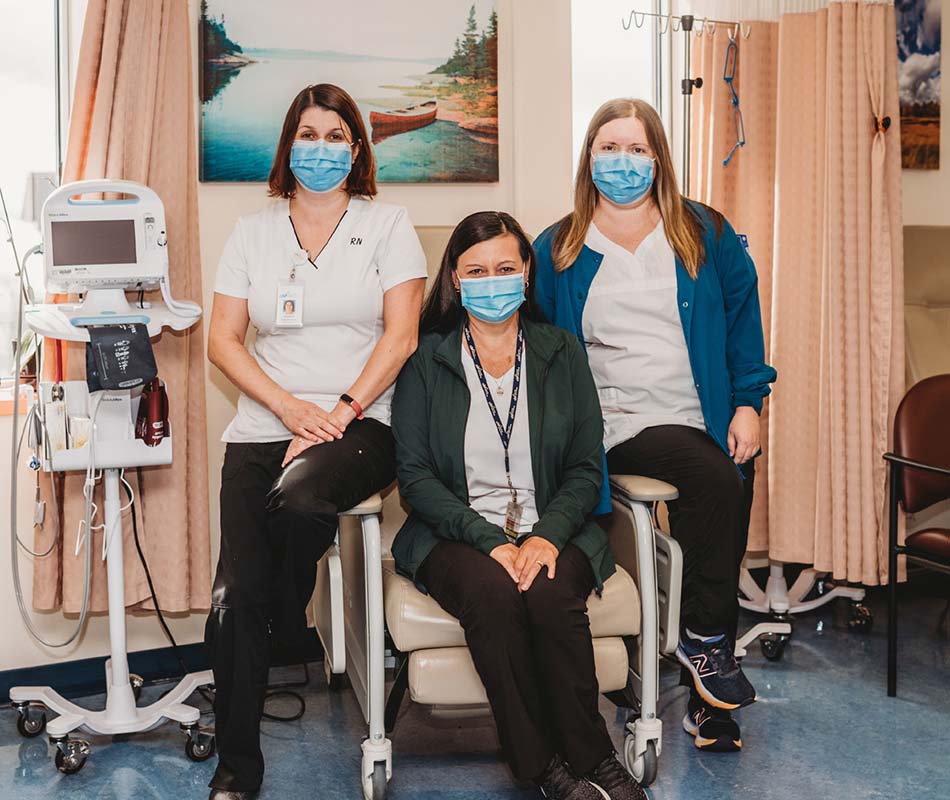 Nursing staff at the Aberdeen Hospital's oncology clinic attended the Atlantic Canada Oncology Group Conference in Halifax in 2022. This two-day event featured regional, national and international presenters sharing the latest developments in cancer research and treatment with health care providers from all over the Atlantic provinces.
"Knowing the latest and most current cancer treatments and approaches to care is vital to supply patients with accurate and timely information," says Alice Fortune, Aberdeen Hospital's Cancer Patient Navigator. "Being able to answer questions about what that patient's cancer journey may involve helps alleviate some of the anxiety and fear of the unknown for our patients and their families."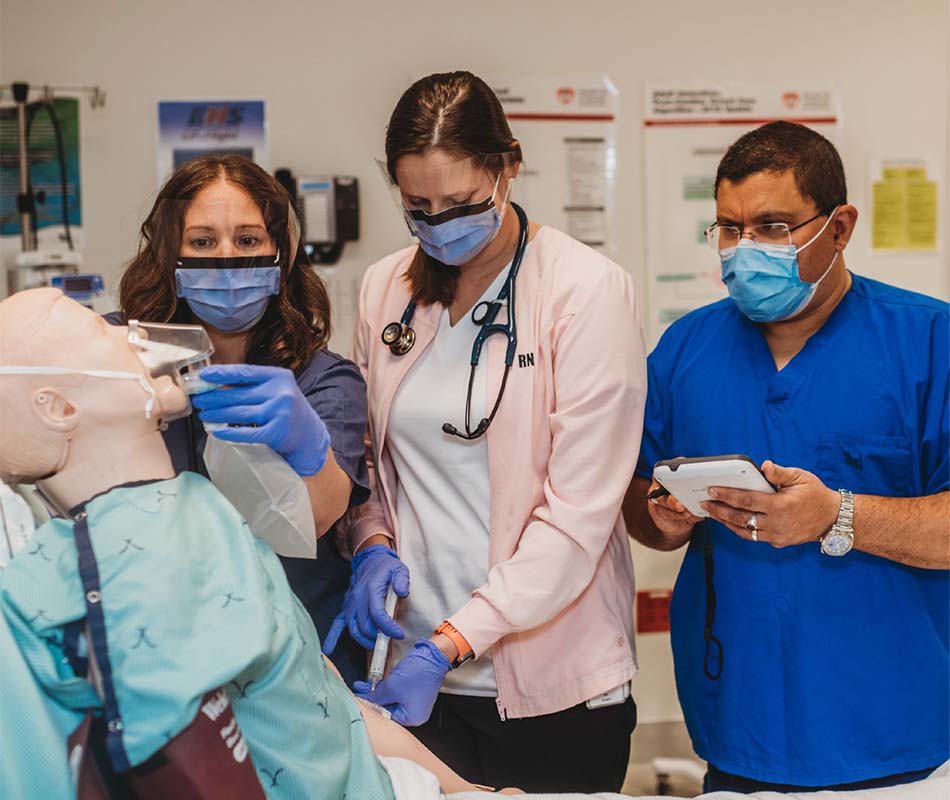 Since 2014, the Clinical Simulation Lab at the Aberdeen Hospital has been a dedicated training space for health care workers across departments to recreate patient care scenarios in a realistic and safe environment. The lab allows staff to enhance skills and change practices in a team-based, hands-on learning environment. With updates in technology, however, aspects of the lab equipment were becoming outdated. In 2022, a new lab pad and monitor provided by the Aberdeen Health Foundation enabled the continued optimal use of the simulation lab.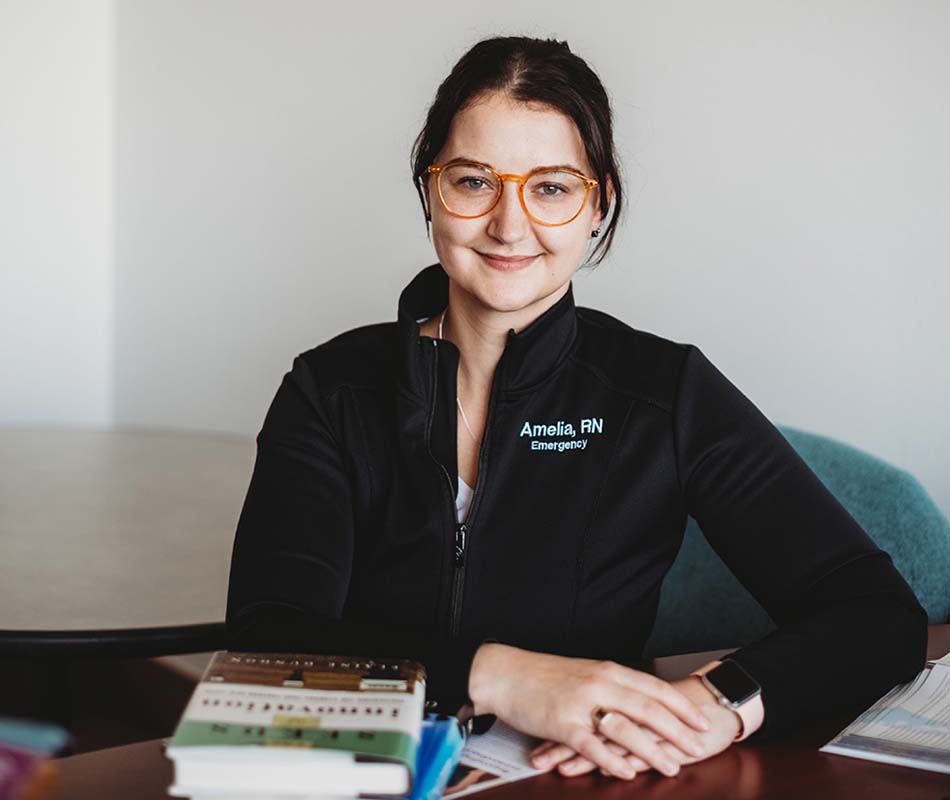 Emergency Pediatric Patient Care Advancements
Amelia MacKenzie, a Registered Nurse in the Aberdeen Hospital's emergency department, completed the Emergency Nursing Pediatric Course with funding from the Aberdeen Health Foundation.
While it is more common to see adult and geriatric patients in the Emergency Department, MacKenzie says, pediatric patients can often prove to be more challenging. "Children have illnesses that affect them differently and often present very differently than an adult patient. They can't communicate symptoms in the same way adults can, and you need to rely more heavily on your physical assessment and visual cues," explains MacKenzie. "The course taught us how to work through every step of the assessment process to ensure that no matter what is going on with the child, you're not missing anything. It gives you those steps for properly assessing every symptom, intervening, and then circling back to reassess."
The newly relocated Orthopedic Clinic on the ground floor of the Aberdeen Hospital has been creating a better experience for staff, patients, and their families since opening in November 2022. With funding from the Aberdeen Health Foundation, the new clinic is now a self-contained program with its own designated patient registry and waiting area, streamlining care for more than 300 patients a week.
"Patients are flowing really well through the clinic," says Jennifer Sutherland, Health Services Director and Site Lead at Aberdeen Hospital. "When they come in for an appointment, they are coming to the ground floor directly beside the patient parking lot and are registered within the clinic. If patients require an X-ray or a visit to rehabilitation services, those departments are located on the ground floor as well, so it has made it much easier for patients to navigate through the hospital. Our hope is that we will see more efficient timelines, which would allow for more patients to be seen."
The project is being viewed as a huge success by staff, surgeons, patients and their families alike, and is another great example of how a relatively small investment can have a big impact.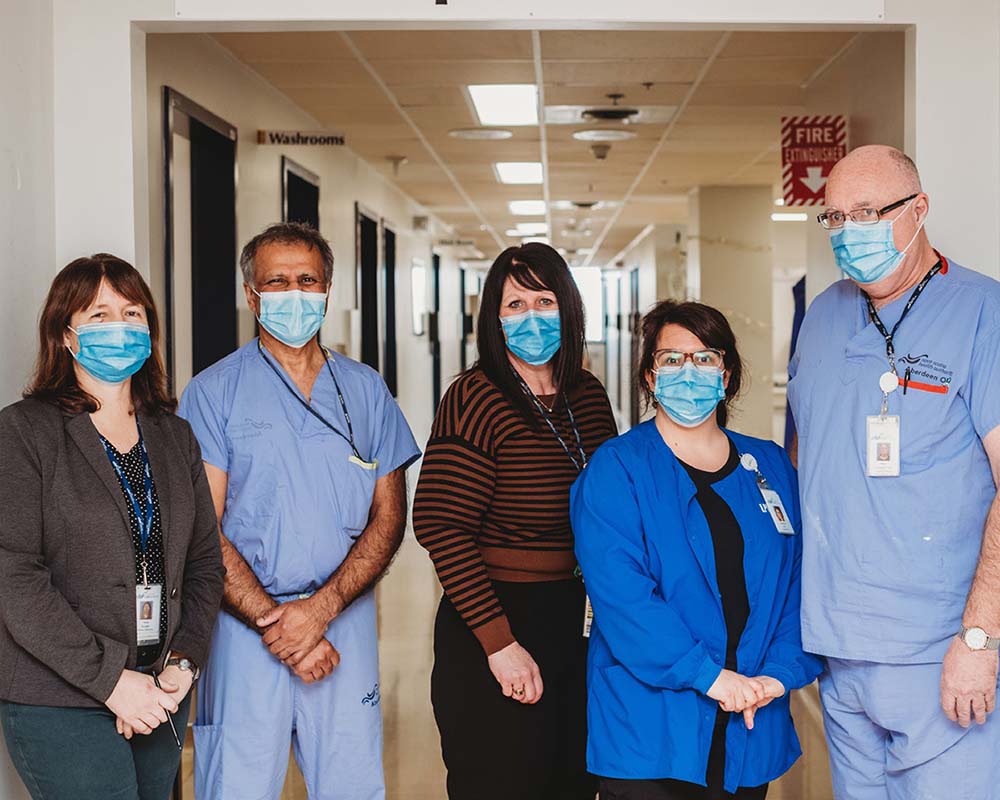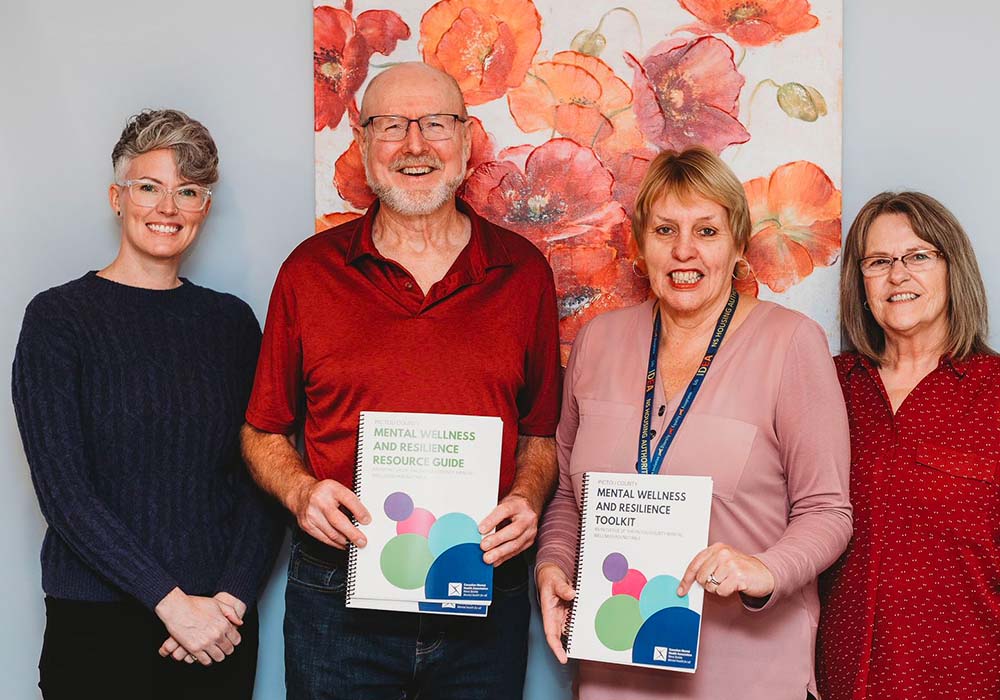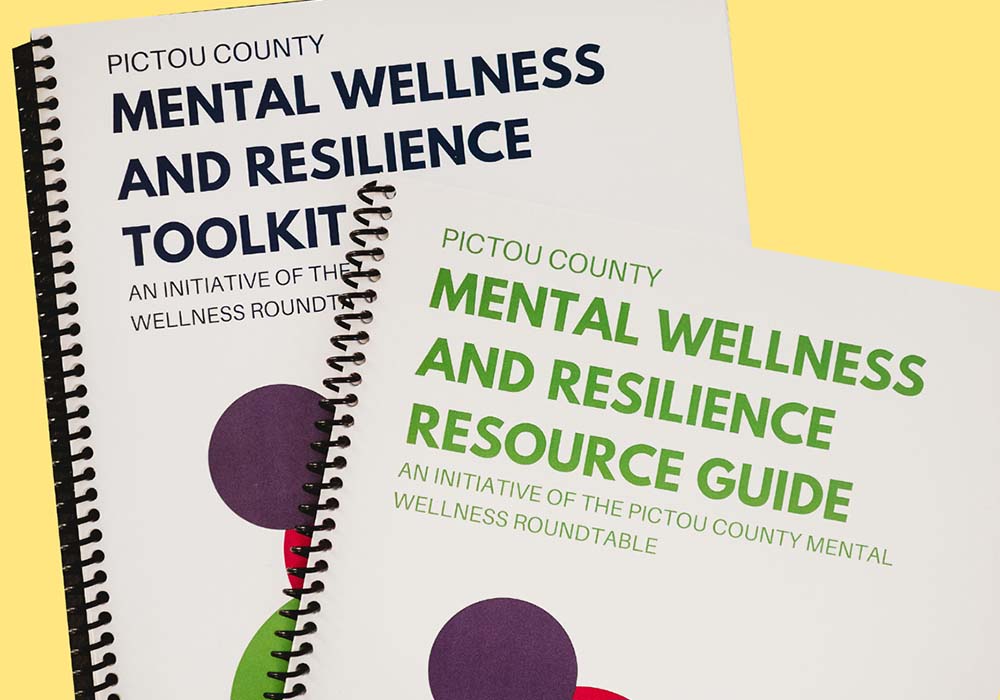 A new initiative aiming to make a positive impact on the mental wellness and resilience of individuals living and working in Pictou County is now available. The Pictou County Mental Wellness and Resilience Toolkit and Resource Guide was developed by the Pictou County Mental Wellness Roundtable, a group of frontline agencies and Mental Health and Addictions staff from Nova Scotia Health who are dedicated to improving mental wellness in our community.
The toolkit contains information designed to promote a better understanding of mental health, lessons for creating mentally safer environments and workplaces, and best practices for supporting someone through a mental health concern or crisis. "Its purpose is to help people improve their own mental health but also to provide people with the tools they need to help others in a more effective manner," says Dominic Boyd, Co-Chair of the Pictou West Community Health Board. The pilot phase of the project involved training the staff of four local frontline agencies serving and directing the public. "Our staff embraced the toolkit from the start," says Jane MacMaster, Community/Tenant Relations Officer for Eastern Mainland Housing Authority. "Everyone was eager to learn and excited to use the toolkit. Lots of discussions were taking place regarding mental health that hadn't taken place before."
Made possible with funding from the Aberdeen Health Foundation, both the Toolkit and Resource Guide can be accessed online at https://aberdeenhealthfoundation.ca/about/resources/
| | |
| --- | --- |
| Medical Equipment | |
| Anesthesia Monitoring System (Surgical Services) | $790,000 |
| Echocardiography Ultrasound (Critical Care) | $202,050 |
| Hematology Analyzer (Lab) | $190,000 |
| Immunoassay Analyzer (Lab) | $190,000 |
| Electric Stretchers x 13 (Surgical Services) | $153,000 |
| Biological Safety Cabinet (Lab) | $105,000 |
| Patient Safety Net Monitoring (Women & Children's) | $95,000 |
| Point-of-Care Ultrasound System (Critical Care) | $65,000 |
| Medical Equipment (Various Departments) | $107,000 |
| Medical Equipment Sub-total | $1,897,050 |
| Orthopedic (Fracture) Clinic Relocation | $115,000 |
| Oncology Renovation Phase 2 | $50,000 |
| FORBOW Satellite Location | $100,000 |
| Population & Mental Health Programs | $180,000 |
| Oncology Patient Fund & Other Health Programs | $98,000 |
| Medical Professional Recruitment | $50,000 |
| Continuing Education | $13,000 |
Note; $421,000 of the above were funded from prior year over accruals.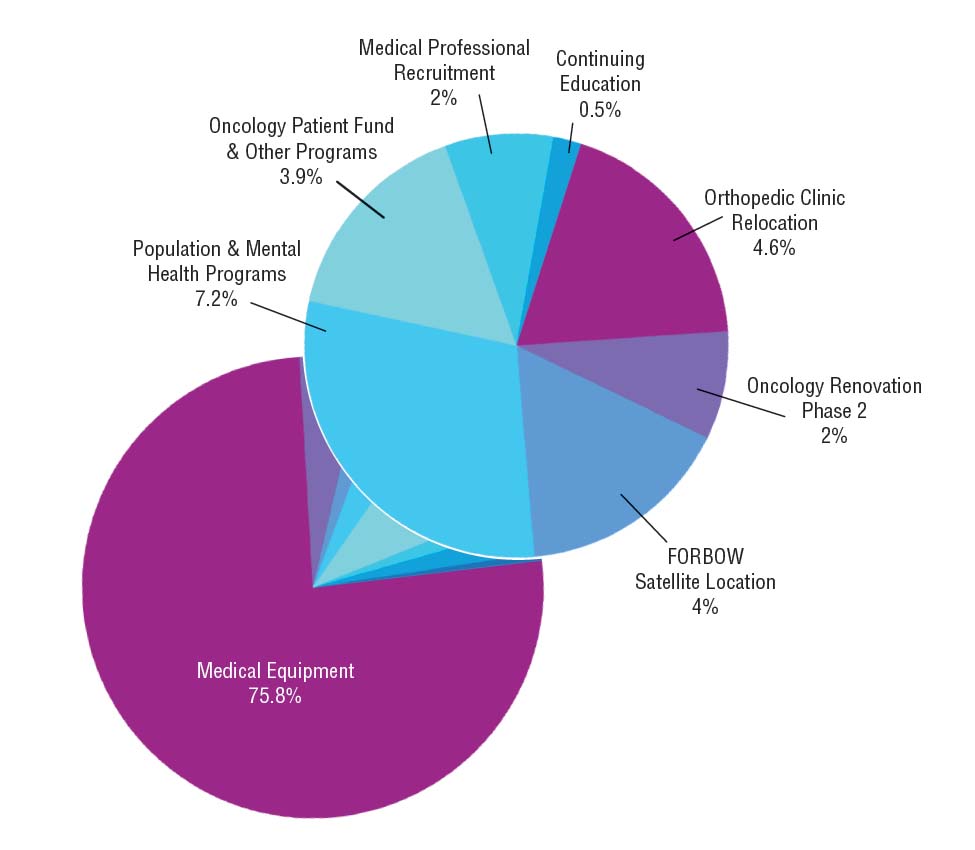 Join us in honouring Jim's legacy
The Aberdeen Health Foundation was founded 36 years ago, born from a need for updated hospital equipment at the same time government funding was being reduced. While the needs were clear to all, it was founding director and lifelong member Jim Gogan who became the driving force behind the vision to establish an endowment fund, an idea that has created a remarkable legacy for health care in Pictou County.
Jim served this organization until his passing in 2021. To honour Jim and his dedicated service to the Aberdeen Health Foundation, the Medical Equipment Fund will be renamed in his honour as part of a special dedication ceremony that will take place at this year's Annual General Meeting.
Annual General Meeting
March 23, 2023 @ 6:30 pm, Summer Street Industries
OR join us online:
aberdeenhealthfoundation.ca/AGM2023
In the event of inclement weather, the event will be held online only.

835 East River Road, New Glasgow NS B2H 3S6